SmartHQ™ Management is built on top of GE Appliances' Smart Home platform, designed to serve millions of consumers nationwide, making our solution proven, scalable and secure for your business.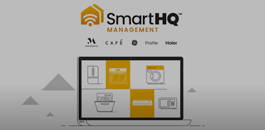 SmartHQ Management is built-on top of our scalable smart home infrastructure leveraging cloud-based services and our open appliance platform, making it easy to integrate with third-party systems.


SCALED FOR ANY ENTERPRISE
Whether you are managing a single facility with dozens of units or thousands of units across the country, our cloud-based SmartHQ Management platform can meet the needs of your business. Developed on top of Amazon Web Services, our infrastructure is designed to meet the needs of our millions of customers.
WORKS WITH ALL OUR PRODUCTS
SmartHQ Management is compatible with all of our products that can be connected to WiFi. Now you can monitor and manage all the major appliances you install in your properties to improve productivity, decrease costs and increase tenant satisfaction.
SmartHQ Management doesn't require that you set-up central hubs or gateways in each unit to connect your appliances to the platform. Just connect your SmartHQ appliances to your facility's Wi-Fi network using the mobile app and you are good to go!