SmartHQ™ Management is built on top of GE Appliances' Smart Home platform, designed to serve millions of consumers nationwide, making our solution proven, scalable and secure for your business.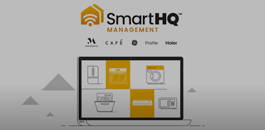 SmartHQ Management is built-on top of our scalable smart home infrastructure leveraging cloud-based services and our open appliance platform, making it easy to integrate with third-party systems.
See our Frequently Asked Questions for more info.


SCALED FOR ANY ENTERPRISE
Whether you are managing a single facility with dozens of units or thousands of units across the country, our cloud-based SmartHQ Management platform can meet the needs of your business. Developed on top of Amazon Web Services, our infrastructure is designed to meet the needs of our millions of customers.
WORKS WITH ALL OUR PRODUCTS
SmartHQ Management is compatible with all of our products that can be connected to WiFi. Now you can monitor and manage all the major appliances you install in your properties to improve productivity, decrease costs and increase tenant satisfaction.
SmartHQ Management doesn't require that you set-up central hubs or gateways in each unit to connect your appliances to the platform. Just connect your SmartHQ appliances to your facility's Wi-Fi network using the mobile app and you are good to go!
FAQs
Can I see how appliances are performing and if they require attention? Do they send me alerts?
Yes, SmartHQ Management allows you to easily see all your GE Appliances you have connected to the system, how they are performing, any messages or alerts there are in the system and if any of your appliances need attention. You can access the portal through your browser on your computer or smartphone.
Which GE Appliances Work with this system?
We have products with embedded WiFi as well as products that can be retrofitted with a WiFi module to connect to the internet across most of our brands. It is possible that the GE Appliances that you currently have in your properties can be retrofitted to connect with SmartHQ Management.
Can I set this up myself?
Yes, we have a self service tool that you can use to connect your GE Appliances to the SmartHQ Management system or we can do the connection and set-up for you. We are also continuing to expand our partner network to help support customers who would prefer to work with an integrator to support their system.
I heard insurance companies might be interested in learning more about smart appliances that can detect leaks, do you work with any companies?
Some insurance companies have been offering programs for property managers who have IoT systems that can decrease potential damage. We currently do not have any partnerships but would be happy to talk to your insurance provider to brief them on our solution and how that can be a factor in your insurance policy.
We are looking for a solution that to trigger service calls and replacement parts, can SmartHQ Management do this?
Yes, the coupling of SmartHQ Management + Service is the winning combo. Management gives you the ability to Manage your fleet at scale and Service gives you the service precision to execute service calls quickly, efficiently and correctly the first time.
We don't want to see tenant data that is personal, can we just see diagnostic data?

Yes, we can work with you on making sure you are only seeing business critical data and maintaining your tenants/customers privacy.
Yes, we are the first appliance manufacturer that has received UL's IoT Gold security rating. We adhere to the same security standards defined by the financial services industry for encryption and security.
Do I need to have site-wide WiFi?

It is preferred that you have site-wide WiFi that the appliances can connect to. Tenant WiFi networks can be unpredictable and we would need to know their SSID and passwords. If those passwords changed or if the tenant changed providers, we may lose connection to those appliances as well.